Our Range of Grilles and Gates
Brief Specification
For all our manufactured grilles we maintain a general rule where spaces between bars should not exceed 127mm. This sometimes increases for aesthetical reasons. It can be difficult to describe all variations of options available, so if in doubt of anything please do not hesitate to enquire.
Coated Finish
All of our grilles and gates are offered with a standard finish of black or white powder coat. Other colours are also available. This process provides a very durable result which requires little maintaining. Due to having many intricate moving parts, collapsible gate materials are also either galvanised of plated.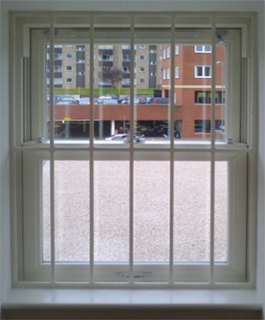 Collapsible Security Gates
Very efficient and easy to open and close, they consume little space. Collapsible gates are common for both commercial and residential windows and doors. They suit habitable needs while providing good access and ventillation.
Our collapsible gates utilise the thicker and heavier materials available when compared to others and are fixed around all edges, either into the reveal of the opening or into a frame. Our collapsible gate lock is designed to suit a wide range of retractable security grilles.
Our quote page explains pricing, we welcome you to make a request so we can show you more details.
Get a Quote
Security Bar Grilles
Our security bar grilles are manufactured from solid steel, unless required otherwise. We use a range of thicknesses which mostly depends on specification and placement. Bar grilles for windows can be fitted externally or internally. They are a common grille for insurance or high specification requirements.
Incorporating decorative artwork can imporve the appearence where desired. We design internal bar grilles differently as standard, which often includes reducing the thickness of material for aesthetical purposes. When manufacturing bars for windows we always try to match existing patterns, mullions and transoms where possible, although compromises in security and strength must be a serious consideration. Whilst methods of fixing bar grilles can vary, we use various methods where necessary to protect fixings from being removed.
When considering fire and safety regulations, security bars installed over windows can be manufactured to include a hinged door section with a lock to provide an escape route.
We welcome you to make a request to discuss options further!
Get a Quote
Security Mesh Grilles
By minimising the gaps and spaces, security mesh grilles are a great choice for preventing objecs or peoples hands from passing through. This purpose includes protection from smashing glass and restricting access to locking mechanisms etc.
We offer a range of mesh designs including diamond expanded mesh and square weld mesh. Like other grilles, we can also provide removable sections on a hinge, and/or removable bolts to get access to clean a window or for safety purposes.
Feel free to visit our quote page to seek options.
Get a Quote
Security Bar Doors
As an alternative or additional door, bar security doors provide a strong barrier whilst maintaining ventillation and visibility. They can be installed as an additional barrier to an existing door, or as a primary barrier to a passage etc.
They're typically manufactured from steel box frame for structure and solid round or square vertical bars, although we can adjust to suit any specification or preference. As with security grilles, we often incorporate decorative steel work to imporve the appearence.
If you would like to enquire about increasing the security of your door, or having a bar door installed for some other purpose then please do not hesitate to contact us with any information to start the process!
Get a Quote
Why Choose Us
We
Manufacture

Our Own
High Detail
Surveyed, designed, manufactured and installed, often by the same person.
Friendly Prices
Dealing direct with us cuts out the middleman. We provide an efficient service and purchase raw materials direct form suppliers.
No time-confusing
We have great control over managing our contingencies, enabling us to serve you best.